Musical entertainment was once provided primarily by amateurs; ordinary people with musical knowledge and ability.  But the invention of recorded performances by professional musicians changed everything.  Prerecorded professional performances were suddenly available to everyone.  People just listened and no longer performed or needed to learn about music. In addition, music training in public schools  discontinued and together left a generation lacking the ability to read or in any way understand music.
While recent popular TV shows like American Idol rekindled interest in singing and musical theater seems to be enjoying a renaissance,  knowledge of American music or its roots is in short supply.   We are left incapable of evaluating music beyond its commercial popularity.  We've become captive to the whims of those who make fortunes in the music industry peddling whatever they believe will sell regardless of its quality or content.    And there is little appreciation for the immense struggle throughout history to produce quality music.
Music is paramount in our lives.  It is central to important functions in society: funerals, athletic and military events, swearing-in ceremonies, religious gatherings, marriages, and what would a movie or play be like without music to stir our emotions.  We spend billions in the music industry and hours listening to the radio and recordings.  Musical styles define our cultures and musicians serve as icons.  Yet, what do we know about this seemingly unique human creation?
Earliest History 
There is no written history of the origins of music.  But it is astonishing to learn that the earliest musical instrument, a sort of flute, was discovered to exist roughly 30 to 40 thousand years ago!  This early date corresponds to the findings of cave drawings from the Chauvet Cave in southern France documented by the German director Warner Herzog in the film Cave of Forgotten Dreams.  The cave drawings are the oldest human-painted images yet discovered, crafted as much as 32,000 years ago. They have a hauntingly evocative three dimensional quality sorely at odds with our notion of "primitive art."   These discoveries lead us to conclude that the esthetic nature of the earliest humans was complex and capable of producing and enjoying art and music to an extent not previously imagined. (1)
1 (Thomas Higham, et al, (2012).  Testing models for the beginning of Aurignacian and the advent of figurative art and music: The radiocarbon chronology of Geibenklosterie.  Journal of Human Evolution Vol. 62, Issue 6, Pg 664-676.)
2   (Levitin, D. J. 2006.  This Is Your Brain on Music: The Science of a Human Obsession.  Penguin Group (USA) Inc. 375 Hudson Street, New York, New York)
Why Do Humans Create Music
 Did music serve some special evolutionary function?  The American cognitive psychologist Steven Pinker asserts that music is merely an evolutionary by-product piggybacking on language.   Music, Pinker explains "…is simply a pleasure-seeking behavior that exploits one or more existing pleasure channels that evolved to reinforce an adaptive behavior, presumably linguistic communication."  (2)
But, Darwin himself wrote in The Descent of Man "I conclude that musical notes and rhythm were first acquired by male and female progenitors of mankind for the sake of charming the opposite sex."  Thus, music may serve as the feathers for a peacock, the function of which seems to aid in the attraction of a mate.  Anecdotally, one can point to the presumed sexual attraction of rock stars or the historical sexual icons Franz Liszt and Niccolo Paganini as due to the seductive power of their music.  Music and dance can arouse passion and energize the weary and fearful soldier or hunter to action thus, indirectly exerting selection pressure for survival and mating.  If music serves to "set the mood" for romance, why not also for earlier people?  But if music has no effect on sexual selection should it have lasted for low these thousands of years?  Why do we find it so pleasurable and necessary?
While the precursors contributing to music can be debated there is no debate as to the importance of music today.  Do we listen to music seemingly for the pure joy of it.  If its beginnings were determined by its effect on selection pressure so be it, but today its purpose may have evolved beyond the practical.  Shouldn't something so relevant be better understood?  Why should music, its creation and performance, be relegated to so few?
2 (Thomas Higham, et al, (2012).  Testing models for the beginning of Aurignacian and the advent of figurative art and music: The radiocarbon chronology of Geibenklosterie.  Journal of Human Evolution Vol. 62, Issue 6, Pg 664-676.)
2   (Levitin, D. J. 2006.  This Is Your Brain on Music: The Science of a Human Obsession.  Penguin Group (USA) Inc. 375 Hudson Street, New York, New York)
What are the Critical Components of Music?
Rhythm
Pinker is surely right in saying that music is pleasurable.  Music can be thought of as being composed of pleasing tones or sounds produced rhythmically.  Perhaps rhythm is the basic element with the pleasing tones the icing on the cake.  We can speculate that early humans eased the burden of pounding grain by doing so in a pleasing rhythm and additionally finding joy in dancing to such rhythms.   Pounding a drum in a certain way is "infectious" and drums are the heart of the music of most cultures.  What is that "certain way?"  This is critical, because the drum itself may sound unpleasant if struck once or twice or not "in rhythm."  But even the pounding of a hammer on a nail can be pleasant if struck "in rhythm."  There are good attempts to define rhythm such as found in How Music Works by John Powell but simply put: rhythm is the accented production of sound in repetitious patterns.
Everyone in western culture knows the waltz and its identifying repeated pattern "ONE two three, ONE two, three, ONE, two, three…etc.' we imagine the twirling couples in exquisite costumes dancing to Viennese waltzes by the Straus brothers.  The accent is on the first count of the repeat three beat patterns.   For another famous pattern, think of Beethoven's opening four notes of his famous fifth symphony;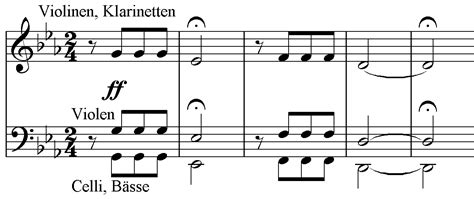 The opening triplets leading to their root note resolution in the key of E-flat is unmistakable to almost everyone born in Western culture – 'la-ta-da DA, la-ta-da DA'.  The Gestalt psychologists at the turn of the last century demonstrated that humans commonly group events into repeating patterns.  We see patterns everywhere and in everything.  Perhaps this grouping is innate, a way to bring meaning to the otherwise chaotic.  It is no accident that rhythmic tapping forms information patterns in everything from Morse code to communication exchanges by isolated prisoners of war.
Poetry enchants us by its rhythm and even Shakespeare has his characters utter their timeless words in rhythm.  Though Western classical music often eschews the drum it never-the-less contains strong rhythmic patterns.
Rhythms can get complicated as in the music from South America or the Afro-Cuban genre.  Rhythm can be cleverly distorted by leaving out "beats" in the pattern or accenting the pattern in unusual and surprising ways such as in Ragtime or swing music.  Go to Google and find a song by Scot Joplin, the American composer who composed catchy ragtime tunes at the turn of the last century, and hear samples of rhythmic distortion.  Or check out a lively version of Cole Porter's American standard "Anything Goes."  This distortion, called syncopation, does not confuse us because of our ability to perceive patterns, and it makes the music interesting and surprising.  Surprise captures our attention and enriches musical experience.
Catch part II of What is Music on my next blog